Worldwide 4K2K LCD TV panel shipment volume grew 60.8% sequentially in the second quarter of 2015, reaching around 9.2 million units.
Complete Report "Worldwide Large Area TFT-LCD Panel Industry, 3Q 2015" Available at http://www.sandlerresearch.org/worldwide-large-area-tft-lcd-panel-industry-3q-2015.html .
Worldwide 4K2K LCD TV Panel Shipment Share by Country, 1Q13 – 2Q15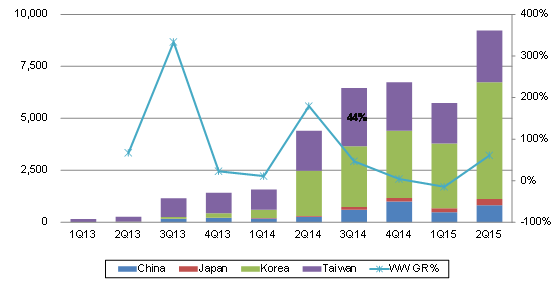 Korean vendors' shipment share rose to 61% from 54%, with shipment volume growing 80% sequentially. Samsung enjoyed the highest sequential growth at 105% with 3.3 million shipment volume, enlarging its gap with LGD and becoming the world's No.1 panel vendor for 4K2K LCD TVs. The majority of Samsung's shipped panels were 55- and 48-inch, together accounting for 70% of its total shipments, followed by 40-inch panels at 20%.

"The significant growth can be attributed to changes in the company's pricing strategies for 4K2K TVs," explains Brian Chen, senior industry analyst with MIC. "In the past, Samsung positioned 4K2K TVs as high-end products, hence a higher price than other brands. To enhance their shipment volume and market share, Samsung has lowered the prices of 4K2K TVs, leading to a significant increase in TV sales performance and thus panel shipments."

Get Discount on "Worldwide Large Area TFT-LCD Panel Industry, 3Q 2015" this Report at http://www.sandlerresearch.org/discount?rname=42057 .

Korean LGD has successfully increased their panel shipment volume with the launch of RGBW M+ 4K2K panels and has expanded their target market from China to worldwide. LGD's 4K2K panel shipments in 2015 are expected to benefit from the increased adoption of M+ 4K2K panels.

To differentiate themselves from others, Taiwanese panel vendors have focused on 50-inch panel shipments, accounting for 46% of Taiwanese 4K2K panel shipments. While Taiwanese vendors' 4K2K panel shipment volume grew 28% sequentially in the second quarter of 2015, reaching 2.5 million units, their shipment share declined from 34% to 27%, further lagging behind Korean counterparts.


Sandlerresearch.org is an online market research store for research reports on multiple industries. These reports provide market analysis, trends and opportunities and forecast about industries that helps to make a right decision for the business.