With emerging markets becoming major selling destination of international brands, smartphone prices have been pushed further down. According to the

"Worldwide Smartphone Market Forecast, 2015-2019"

report, the number of smartphones priced US$150 or less is expected to reach 471.5 million units in 2015, up 29.5% year-on-year with its market share increasing from 28.1% in 2014 to 32.7% in 2015.
Worldwide Smartphone Market by Price Point, 2012-2019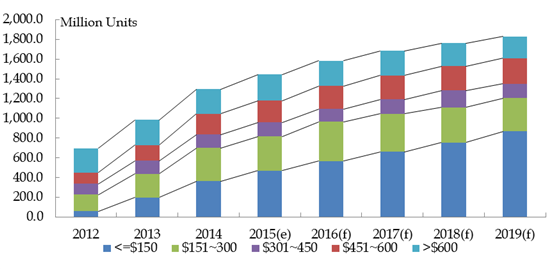 "The low-cost smartphone market is led by Chinese brands and local vendors in emerging countries. As the Chinese smartphone market is near saturation, Chinese brands like Huawei, Lenovo, and Xiaomi have been making inroads into emerging markets," says Edward Lin. "In addition to traditional sales strategies, they have started to assess the possibility of establishing a smartphone assembly facility in emerging countries in order to take advantage of the government's preferential policies for foreign investors."

Get Discount on this "

Worldwide Smartphone Market Forecast, 2015-2019

" Report at http://www.sandlerresearch.org/discount?rname=42045 .

Samsung, for example, has set up two mobile phone manufacturing plants in Noida and Chennai in order to provide sufficient supply to meet local needs. Additionally, Samsung has considered the possibility of setting up the third plant in India. Although shifting orders to local assembly lines will greatly impact their existing contract makers, international brands seem to have no choice but to consider the establishment of local plants to keep costs down.

What is noteworthy is that Apple will likely continue to lead the high-end segment, leaving virtually no room for others including Samsung. Samsung's high-end models have been facing setbacks and the situation is expected to deteriorate further in the future. Moreover, the share of smartphones priced US$600 or higher is projected to dip further along in 2016 with declining sales figures.


Sandlerresearch.org is an online market research store for research reports on multiple industries. These reports provide market analysis, trends and opportunities and forecast about industries that helps to make a right decision for the business.